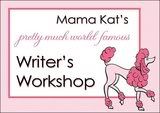 This entry is inspired by
Mama Kat's Writer's Workshop prompt: 1.) Describe a popular kids toy or show that you just don't understand. I have chosen Cartoon Network's Chowder...I don't get it!
For all you moms who have graduated from the Disney Channel and moved on to Cartoon Network, I think you know what I'm talking about. CHOWDER MAKES ME WANT TO SCREAM!!!
Aaarrrggghhhhh! Turn that s*** off!!!
This is quite simply the most irritating show ever to grace the airways. In case you haven't seen it, the show stars "Chowder," a cat/bear/rabbit hybrid that goes around making annoying noises and repeating the same things over and over and over again...It's horrible!
I'll start by saying this is a French-Canadian show created by C.H. Greenblatt, one of the storyboard artists from Sponge Bob Square Pants. Really that ought to be enough said, but I'll go on. The characters live in Marzipan City and they all have ethnic-food-inspired names like Gazpacho, Mung Daal, Schnitzel, and Panini. Theoretically it sounds kind of cute, doesn't it? I mean, maybe it will inspire your kids to actually
try
Gorganzola on a cheese plate since there's a character named that on Chowder, right? WRONG! Instead they'll look at it, plug their noses and run around the kitchen table screaming "stinky cheese" in a Chowder-inspired screech. Charming, really!
Schnitzel, Mung Daal, Chowder, Truffles
And then, you can't help but gawk at the TV trying to figure out what the hell these characters are supposed to be. You'll find yourself wondering which psychotropic drugs were used to inspire the mushroom-headed Truffles and the "rock monster" Schnitzel. And then you'll think -- it it appropriate to have your school-aged children watching this at all? All the while, you've wasted an hour and given yourself a 3-Aleve headache to boot.
But don't think the worst has past...Flapjack will be up next, and I'm afraid that might even be worse! Cartoon Network, I don't get you!